NEW – Mortgage Agents and Mortgage Brokers. We've got some great new options to personalize your Business Booster Marketing Program (Mortgage CRM) newsletters to get more focus on your personal brand, and make you truly shine in your newsletters.
OPTIONS: New options include:
- Headshots can now be included
- Scanned signatures can now be included
- A Company Logo can now be included
- A secondary logo, whether for your personal brand, a favourite charity that you make commission donations to, or any other appropriate logo
COST: Each of these options are available for $65(per item), to cover the cost of the designer/programmer involvement.
DEADLINE: please send us your professional headshots, hiqh res logos, or scanned signatures before Thursday, September 22nd, 2011
SAMPLE: please see the sample below (note: the text in this email aside from Personalization options is all "faux" Latin text, to make sure you focus on the personalization options)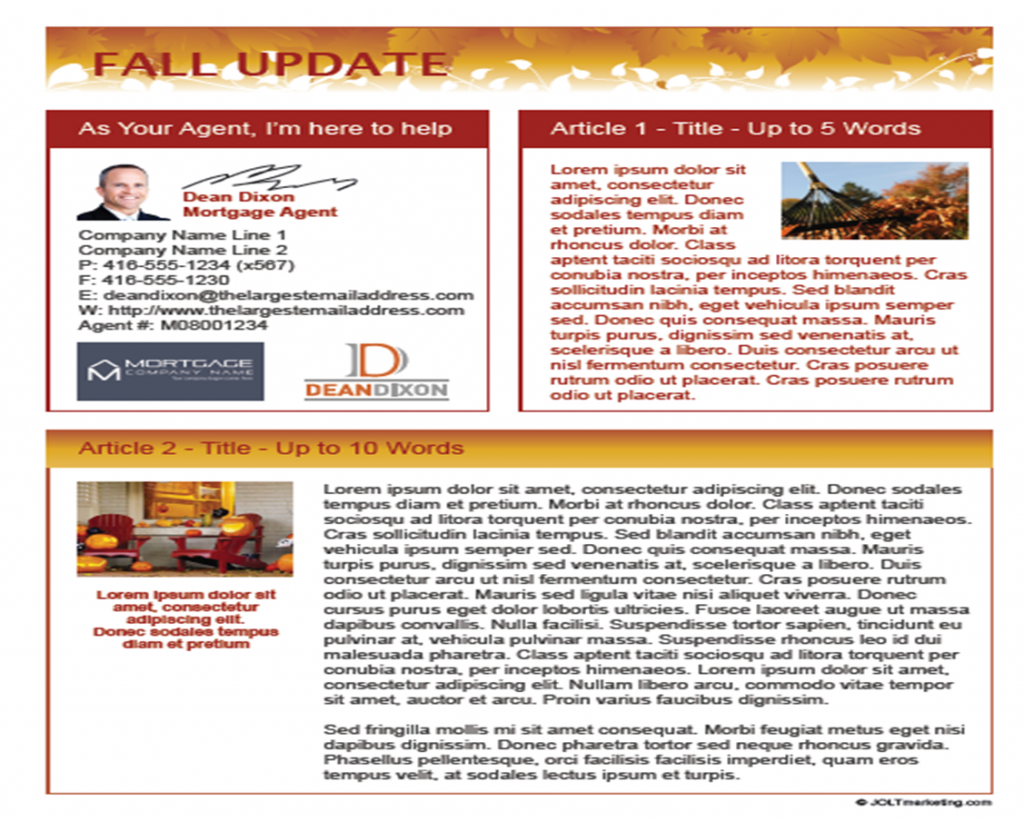 IMPORTANT INFORMATION: For scanned signatures we recommend the Pilot SW-PPF Fineline pen, and please make sure your signature size is no less than 5″ w x 3″ h (the designer will reduce the size with the design software). A regular ballpoint pen for your signature will not look good.
QUESTIONS? Email: info@joltmarketing.com
Want to know more about the Business Booster Marketing Program? This program is a CRM Program for Mortgage Agents and Mortgage Brokers, and it's designed to make your life easier & keep you in regular contact with clients. For full program details go to http://bit.ly/b5Viuy.