If you are looking to stay in touch with clients on a regular basis with a polished and professional program we have just the thing for you!
For only $10 per client you will get 8 touchpoints per year with the Business Booster Marketing Program including:
- 2 mailed cards
- 4 e-newsletters
- 2 follow up phone calls
That's an amazing price for extremely high quality materials, but you need to hurrry if you don't want to miss out!
The Business Booster fall e-newsletter is ready to be sent out – make sure you sign up for the program before October 8th.
The e-newsletter is designed with a link, so when clients click on your e-newsletter an email box opens – making it incredibly easy for your clients to get in touch with you & opening the door for you to see if they are ready to move or have any referrals for friends or family who may be!
Here's a copy of the newsletter: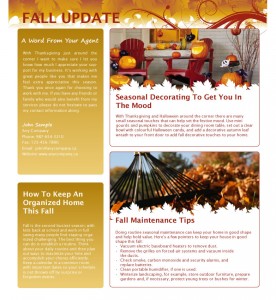 Here's what clients are saying:
I just wanted to let you know how pleased I am with the response I've been receiving to the Business Booster Marketing Program. The last e-newsletter was a hit; a few clients emailed me right away even though we had lost touch for over a year.
Justin Aykler, REALTOR(R), Aykler Real Estate Inc.
All you have to do is tell us which clients you want to sign up and we take care of everything else!
Email info@joltmarketing.com to get started today!