Yesterday our very own Ingrid Menninga was interviewed again by Global News about Real Estate Marketing. This time the news team wanted to know about Sales Incentives offered by REALTORS and Real Estate Developers as a way to lure in potential buyers. Click play to watch the embedded video below.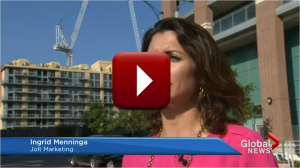 TORONTO – Kylemore Communities' Patrick O'Hanlon says his company is offering a $35,000 voucher towards a BMW with the purchase of a condominium in his Markham community.
"We wanted to bring people in and show them that this is different than a regular condominium," said O'Hanlon.
Located at Major Mackenzie Drive East and Warden Avenue, northeast of downtown Toronto, The 6th at Angus Glen is advertised as a "luxurious resort community" with amenities like a golf course, fitness room and whirlpool.
"You don't need an upgrade here, so what else would you need? Something to park on the P1 level that you can take out and say, 'I live at the sixth,'" he explained.
Another eye-catching realtor ad offers a free 2013 Honda Civic when you buy or sell a home for $2 million or more, a free 2013 Nissan Versa if you're in the $1.2 to 1.99 million range, a $7,000 Yorkdale Mall shopping spree from $600,000 to $1.19 million or a $3,000 Apple Store gift card for those from $300,000 to $599,000.
Real estate marketing expert Ingrid Menninga believes these incentives are effective as attention-grabbers and differentiators.
"Typically what happens is when people buy real estate, there are many other purchases that go along with that in the tens of thousands of dollars," she said. "So it's a smart move for the developer to think ahead of time what people are doing and offer that as an incentive."
Menninga, director at Jolt Marketing, notes incentives are nothing new in and of themselves, pointing to the Liberty Village condo boom around 2006, in the area along King Street west of Toronto's downtown core.
"You would get free parking…when you bought a unit, and it was really just reflective of the area starting to grow," she said. "They wanted to attract attention here and it worked."
While the condo market cooled in September with prices slipping 3.7 per cent in downtown Toronto and 1.8 per cent in the suburbs, market analyst Jason Mercer said when you look at the same type and quality of condominium apartment from one month to the next, it's a different story.
"If you look at our benchmark price…you actually see pricing up by about 2 per cent," said Mercer, Senior Manager of Market Analysis at the Toronto Real Estate Board. "So the story with pricing over the last few months has been somewhat of a flat-line trend: some months up, some months down on a year-over-year basis."
Mercer said overall, condo pricing has held up "quite well" given the added supply, and he's seen an acceleration of condo apartment sales growth moving from summer into fall.
"There's still quite a lot of households who are looking to get into that ownership market and are looking at that condominium apartment segment."
Story Originally Published by Shaw Media, 2013
If you enjoyed this Lead Generation Article or Video, make sure you sign up for more Lead Generation Tips & Tricks here:
Get FREE Lead Generation Tips & Tricks. Sign up here
To your success,
Ingrid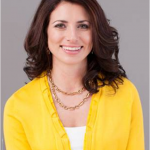 Ingrid Menninga is the founder of JOLT Marketing where her big mission is to put the heart back into the Real Estate and Mortgage industry while helping Agents & Brokers make awesome profits.
Within 3 years of founding JOLT Marketing, Ingrid has carved out a spectacular success roster working with Canada's leading Real Estate and Mortgage brands with clients from RE/MAX, Royal LePage, Dominion Lending Centres, Verico, Street Capital, and more.
Ingrid is frequently featured in industry journals such as REM: Canada's Real Estate Magazine, CAAMP's Mortgage Journal, at speaking engagements for RE-Bar Camps, InMan's Agent ReBoot, CMP's The Mortgage Summit and in Sales Seminars for leading industry organizations such as IMBA(Independent Mortgage Brokers Association of Ontario).