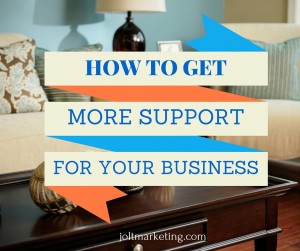 2016 is here and it's time to ROCK your SALES!!!
And, like they say…it takes a village to be successful.
But what if you feel like your professional village doesn't really have your back?
To help you out with this I created a short video that covers:
Why support is critical to your success
3 ways to identify that you're not getting the support you need
What you might be doing that makes it impossible for others to help you
How to have people go way out of their way to help you and get more business support than you ever imagined (and feel great about it!)​
Click below to watch the uncut, unedited, no B.S., just straight goods video.
To your success,
Ingrid Menninga
JOLT Marketing Founder