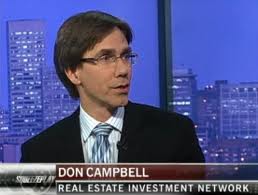 Don Campbell is the founder of REIN Canada (the Real Estate Investment Network Canada), where he is a Real Estate Educator, Researcher, Investor & Best-Selling Author of Real Estate Investing In Canada 2.0. Don is regularly featured in the Globe and Mail, BNN, CTV, CBC, and other respected media outlets in Canada, and donates 100% of his author royalties from all of his books directly to Habitat for Humanity.
Recently I asked Don how REALTORS® and Mortgage Brokers can get Real Estate Investor clients, and here's what he had to say.
Q: What general advice would you give to Mortgage Brokers or REALTORS® looking for Investor clients at your events?
A: There is no question what so ever as to the answer: Stand Out! Come to a networking event with answers (not a business card collection grab). You are looking for only 1 or 2 quality long term investors as they will buy multiple properties in a chosen geographic area. Have examples of quality investment properties on your Ipad (whether they are sold or not) just to show the prospect that you know what you are talking about. For Mortgage brokers it is CRITICAL to speak the language the investors are speaking and right now that is EASE of financing not rates – how are you going to get my deal financed?

Q: What advice would you give them to meet prospects at your events?
A: #1 Dress the part. Unfortunately at networking events, people do judge a 'book by its cover.' #2 come prepared to build relationship – not to push/sell. Over 21 years I have witnessed the difference and the results over the long term are like night and day. Sure the push/sell works for short term – but then you have to go push/sell again in order to eat. Become the trusted port in the storm.

Q: What's the biggest mistakes you see REALTORS and Mortgage Brokers make at your events, or with Investors in general?
A: They treat them like home-buyers when the process is 180 degrees different. They don't learn the language, don't understand the client's needs and they try to talk an investor into a deal. The job of a pro is to SUPPORT the vision of the investor and help it come to fruition and to achieve a level of trust where you not only get all of their transaction, you also get quality referrals. This provides realtors and mortgage brokers an opportunity to be a real information portal.
Q: What's your prediction for the Real Estate investment climate over the next 3 years?
A: Over the next 3 years, real estate markets are going to continue to be very regionalized. Where in some areas of the country you will enjoy strong growth while others will remain flat or drop. This provides realtors and mortgage brokers an opportunity to be a real information portal. Consumers and investors are more informed now than ever before – the real winners in the real estate professional industries will be those who can bring calmness and clarity to mixed signals. GREAT opportunity always lies in chaos and confusion.

Q: What are the big opportunities for RE investors in the next 2 years?
A: Real Estate Investors opportunities are going to be quite remarkable… however for real estate 'speculators' (those who only count on big value increases for their profit) the waters will be very scary. Opportunities will abound for those investors willing to do that extra 10% that others just aren't willing to do. Successful investors will be found in those who become Geographic Specialists (knowing, understanding and investing in ONE specific region. As Warren Buffet says (and I have been very successful at) "Put all of your eggs in one basket… then watch that basket!"

Q: If you were a Realtor or Mortgage Broker right now, what would you do to appeal to investor clients?
A: Quite simply, average and below average mortgage brokers and realtors are going to struggle. Banks are aggressively pushing independent brokers by the way side (this is just beginning), realtor's control on 'info' is shrinking as consumers have increasingly more options to gain market data…. what that leaves are the Realtors and Mortgage Brokers who understand that this is a business (not a profession) and that they must pay VERY close attention to what the buyers and sellers need and want RIGHT NOW in 2013 and beyond. Old models will become obsolete and new models will emerge to match these market shifts. Great realtors and brokers are already beginning their shift to get ahead of the wave – those stuck in the past will struggle. This is a business and adaptation is where survival and growth will occur.

Q: Where can Mortgage Brokers or REALTORS find out more information, and sign up to attend events?
A: A great place for Agents/Brokers to tap into the big REIN network is to get involved answering questions (and becoming the calm port in the storm) at www.myREINspace.com discussion forums.
Don R Campbell is Canada's all-time best-selling real estate author and Senior Analyst at the Real Estate Investment Network. For more insights follow him on twitter at @donrcampbell or visit his blog page at www.DonRCampbell.com
If you enjoyed this Lead Generation Article, make sure you sign up for more Lead Generation Tips & Tricks here:
Get FREE Lead Generation Tips & Tricks. Sign up here
To your success,
Ingrid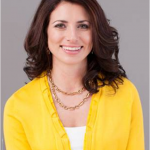 Ingrid Menninga is the founder of JOLT Marketing where her big mission is to put the heart back into the Real Estate and Mortgage industry while helping Agents & Brokers make awesome profits.
Within 3 years of founding JOLT Marketing, Ingrid has carved out a spectacular success roster working with Canada's leading Real Estate and Mortgage brands with clients from RE/MAX, Royal LePage, Dominion Lending Centres, Verico, Street Capital, and more.
Ingrid is frequently featured in industry journals such as REM: Canada's Real Estate Magazine, CAAMP's Mortgage Journal, at speaking engagements for RE-Bar Camps, InMan's Agent ReBoot, CMP's The Mortgage Summit and in Sales Seminars for leading industry organizations such as IMBA(Independent Mortgage Brokers Association of Ontario).