This weeks lead generation tip is inspired by real life, and is Part One in a 3 Part series on the Easiest Way to Lose a Lead.
Everyday I receive emails from REALTORS(R) and Mortgage Brokers, and there is one absolutely critical thing missing from most emails.
What is it?
It's so easy I hope this video inspires you to check all email accounts from all devices right after you watch this video and then share this video on facebook!
What's missing from most emails is a phone number where a prospect, client or referral partner can call you.
Yes, you may have a fancy nice HTML designed email signature that automatically gets added to your email when you send messages from your desktop…but what happens when you use your Blackberry or ipad? Is that signature still there? Often times it is not.
What happens when your phone number is missing is that you miss out on big opportunities for your prospects or clients to call you up and ask you questions…which of course is your golden opportunity to build a relationship, build trust and win their business (or more referrals from them!).
Watch this video to find out all the places you should have your phone number, and what the real consequence is of not having it. (Click play to watch the video).
If you enjoyed this Lead Generation Article and Video, make sure you sign up for more Lead Generation Tips & Tricks here:
Get FREE Lead Generation Tips & Tricks. Sign up here
To your success,
Ingrid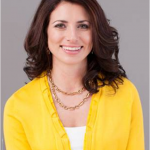 Ingrid Menninga has xray vision for carving out marketing opportunities and the creativity to convert them into gold!
Ingrid delivers high impact, low cost, customized marketing strategies for turbo-charging entrepreneurs and small business owners to great profits.
After 12 years of working with legendary companies such as Carlson Marketing Group, Pizza Pizza, Invis Mortgages, and Royal LePage Canada, she left corporate Canada to launch JOLT Marketing.
In just 3 short years after starting JOLT Marketing, Ingrid has carved out a spectacular success roster working with Canada's leading Real Estate and Mortgage brands such as Slavens Real Estate, GWL Realty Advisors, Mortgage Architects, Dominion Lending Centres, and Oriana Financial, to the tune of delivering a 250% increase in sales and participation on average. Having achieved high accolades for skyrocketing sales for countless companies, Sales Agents and budding Entrepreneurs with high profit marketing campaigns, Ingrid is frequently asked to share her expertise in industry journals such as Canada's Real Estate Magazine – REM, at speaking engagements for RE-Bar Camps and InMan's Agent ReBoot, and in Sales Seminars for industry organizations such as IMBA (Independent Mortgage Brokers Association of Ontario) and other leading industry organizations.