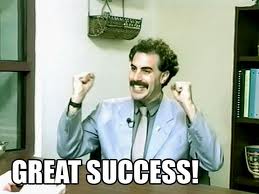 Ever wondered what your tweets and facebook status updates say about you?
Ever wondered how some people seem to generate interest in what they're doing no matter what they post, while others make you want to turn away in horror?
There's a personality infographic that can help you de-code all of the social networking personalities! Thanks to the good folks at MyLife.com who put together this fun infographic, you can now see what your "type" is on social media.
The font is a little small and hard to read, so I made this image BIG, hoping that it will render nicely on everyone's laptops/iphones/ipads gadgets etc.
When I went through this I instantly identified several of my facebook friend's personality types. Can you identify yours?

If you enjoyed this update, make sure you join our e-newsletter where we regularly share great, high quality content on Real Estate lead generation and Mortgage lead generation for today's Agents.

To your success,
Ingrid
Ingrid Menninga has xray vision for carving out marketing opportunities and the creativity to convert them into gold!
Ingrid delivers high impact, low cost, customized marketing strategies for turbo-charging entrepreneurs and small business owners to great profits.
After 12 years of working with legendary companies such as Carlson Marketing Group, Pizza Pizza, Invis Mortgages, and Royal LePage Canada, she left corporate Canada to launch JOLT Marketing.
In just 3 short years after starting JOLT Marketing, Ingrid has carved out a spectacular success roster working with Canada's leading Real Estate and Mortgage brands such as Slavens Real Estate, GWL Realty Advisors, Mortgage Architects,Dominion Lending Centres, and Oriana Financial, to the tune of delivering a 250% increase in sales and participation on average. Having achieved high accolades for skyrocketing sales for countless companies, Sales Agents and budding Entrepreneurs with high profit marketing campaigns, Ingrid is frequently asked to share her expertise in industry journals such as Canada's Real Estate Magazine – REM, at speaking engagements for RE-Bar Camps and InMan's Agent ReBoot, and in Sales Seminars for industry organizations such as IMBA(Independent Mortgage Brokers Association of Ontario) and other leading industry organizations.