Are you feeling stretched thin? Like you're pulled in a million different directions and you can't possibly do what you need to do right now, never mind stuff that will get you business in the future?
If you're nodding your head in agreement I've got some great news for you.
You don't have to work this hard. You're probably working much harder than you need to, and by doing a million different things, you're actually working against yourself. That's right…the more different things you add on to your plate, the less successful they will all be.
Not because you're doing them poorly, but likely because you're not creating the momentum you need with each activity.
And when you don't have momentum, you have a stop and start, and stop and start pattern in your business that takes a ton of time, energy, money, frustration and stress.
Not ideal, right?
But there's a solution. There's a really easy way to do less and make more money.
It's called leverage, and in this short video I give you a simple recipe for how you can stop sabotaging your own success and finally start getting awesome results from your efforts.
If you LOVE the 10 different ways to use one marketing idea you'll definitely love the 101 Free & Easy Ways to Market Your Business training program. To find out how you can start wasting $ on marketing that doesn't work, and start becoming a marketing magician by only using high quality marketing tactics that work incredibly well & convert like crazy, click here.
Leverage is something I teach extensively to my premier coaching clients…and they're getting incredible results. After a short period they're finally able to reclaim their life, their free time, hire Admin help, and see high quality deals roll in. If you're ready for a Quantum Leap in your Business and want to know more about our Premier Coaching Program, email info @ joltmarketing.com
If you enjoyed this Lead Generation Article or Video, make sure you sign up for more Lead Generation Tips & Tricks here:
Get FREE Lead Generation Tips & Tricks. Sign up here
To your success,
Ingrid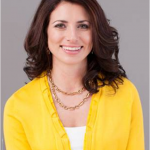 Ingrid Menninga is the founder of JOLT Marketing where her big mission is to put the heart back into the Real Estate and Mortgage industry while helping Agents & Brokers make awesome profits.
Within 3 years of founding JOLT Marketing, Ingrid has carved out a spectacular success roster working with Canada's leading Real Estate and Mortgage brands with clients from RE/MAX, Royal LePage, Dominion Lending Centres, Verico, Street Capital, and more.
Ingrid is frequently featured in industry journals such as REM: Canada's Real Estate Magazine, CAAMP's Mortgage Journal, at speaking engagements for RE-Bar Camps, InMan's Agent ReBoot, CMP's The Mortgage Summit and in Sales Seminars for leading industry organizations such as IMBA(Independent Mortgage Brokers Association of Ontario).