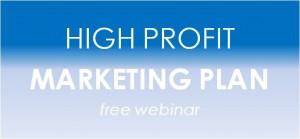 Join me for a FREE 60 minute webinar where I'll break down:
how to fill your sales funnel with high quality leads continuously (you'll be surprised by how easy this is)
the secret behind a "high profit" marketing plan, that costs you little to no $, but delivers HUGE results
the #1 mistake Agents make in Marketing plans, and how you could be missing out on thousands, if not tens (or even hundreds) of thousands of $$$
the "no fail" map you need to follow in your business to scoop up all the opportunities that are left behind by others
how to get 365 days of success with your High Profit Marketing Plan
To join the webinar enter your contact details in the box below and we'll send you the details shortly.
To your success!
Ingrid
Referred to as "The No Nonsense Marketing Maven," Ingrid Menninga has xray vision for carving out marketing opportunities and the creativity to convert them into gold! Ingrid delivers high impact, low cost, customized marketing strategies for turbo?charging entrepreneurs and small business owners to great profits.
After 12 years of working with legendary companies such as Carlson Marketing Group, Pizza Pizza, Invis Mortgages, and Royal LePage Canada, she left corporate Canada to launch JOLT Marketing
In just 3 short years after starting JOLT Marketing, Ingrid has carved out a spectacular success roster working with Canada's leading Real Estate and Mortgage brands such as Slavens Real Estate, GWL Realty Advisors, Mortgage Architects,Dominion Lending Centres, and Oriana Financial, to the tune of delivering a 250% increase in sales and participation on average.
Having achieved high accolades for skyrocketing sales for countless companies, Sales Agents and budding Entrepreneurs with high profit marketing campaigns, Ingrid is frequently asked to share her expertise in industry journals such as Canada's Real Estate Magazine – REM, at speaking engagements for RE-Bar Camps and InMan's Agent ReBoot, and in Sales Seminars for industry organizations such as IMBA (Independent Mortgage Brokers Association of Ontario) and other leading industry organizations.