Last week I was doing a social media training session at the Brampton Real Estate Board for Johnson and Associates Realty. It was a great session; about 25+ highly engaged REALTORS ready to learn on the "hot","new","can't be missed" Social Media Trends for 2014. I shared free & easy to implement strategies, what's changing this year, how to generate leads using social media, what sites to focus on and much more.
And then I asked a question I've never asked before.
I asked "How many of you are planning on using social media as the main way to grow your business this year?"
Almost everyone raised their hands.
Then I asked "How many of you have a real hunger for technology?"
Half the room raised their hands.
Then I asked "How many of you consider yourselves to be "tech savvy""?
The same amount of people raised their hands.
And then I asked "What WordPress theme are you using"…
And everyone except 2 Agents asked "What's that?" (WordPress is a blogging platform that everyone can easily do, but to master it and actually get results from your efforts including knowing which theme to select, which keywords to use (and updating them often), selecting the right plugins for your theme and more, you'll have to spend a huge amount of time. At that point, it's almost like you're a Social Media Expert, who happens to be focused on Real Estate or Mortgages).
Now, the reason I'm telling you this story is because I think in a lot of ways, the importance of social media may have been overstated to you.
And by the way, I LOVE social media…so I'm not telling you this because I don't like it, or don't understand it, or haven't seen results from it. The reason I'm telling you this is because I see so many Agents and Brokers forgetting about what actually gets them paid, because they're ditching tried, true and tested ways to prospect, get more clients and make more money for the new "shiny object" of social media (which isn't new anymore, but there's still lots of you getting on board now).
Or, because you've attended lots of training sessions or webinars that have told you how you must be on social media, you've decided to focus your energy here. So you learned how to use Facebook, or Twitter or Linkedin, or Youtube videos. (You may have even taken one of our JOLT Marketing courses on this subject). And for many of you, you start to spend a huge amount of your working hours doing social media activities.
Now, that's not a bad thing, and I certainly don't want you to have any regrets, but let's be 100% clear. Social Media is the long, winding road to getting new business and referral business.
If you need new business RIGHT NOW, I would not bet on social media.It will hurt your business sooner than it will help it. The reason I say this is because on social media it's not appropriate to "sell". It actually doesn't work. Yes, you can work on building your reputation, or staying in touch with past clients, or staying top of mind with prospects. But when it comes to actually "selling", as in getting paid nicely for your work in the next few weeks/months, social media is not where I would spend my energy. And I can say this with 100% confidence, because we have a roster of consulting clients that we help to make sales right now, and social media is always one of the weakest performers for our ad spend. Focusing on what I mention below we've sold 7 condos in 1 day, sold 300% more mortgage insurance in 5 months than a company had done in a full year, sold 17 condos at an event, and much more.
So instead of focusing on social media, here's what I would focus on:
1. I would make sure you have a solid prospecting database. These are not random emails, or phone numbers on sticky notes. These are full details including first name, last name, email, phone number, mailing address, how they heard about you, when they're looking to move, what their price range is, and special notes about if they have children, or love pets, or any conversation pieces. ***Everyone on your prospecting list must have given you permission to email them, so either use an email system with opt-in forms (We love using Aweber Email Marketing for this), or have all your prospects send you a note in writing giving permission to email market to them.
2. I would make sure you have a solid client database. Again, these are not random emails, or phone numbers on sticky notes. These are full client details including first name, last name, email, phone number, mailing address, how they heard about you, when they moved, what their price range is, any referrals they sent your way, and special notes about if they have children, or love pets, or any conversation pieces. This is a pretty basic database, and if you want you could make it a lot more complicated, but let's just start here.
3. I would hone AND USE your sales and marketing skills. You need to really know how to market yourself so you're collecting loads of new leads weekly, and you really need to know how to sell properly including how to handle objections, different closing strategies, and how to rescue deals that seem to be falling apart. If you want to learn how to sell there are lots of trainers that would love to work with you. I've heard great things about Chris Leader, Tom Ferry, and Brian Buffini. If you want to know how to market yourself properly I recommend you join our "5 Steps to More Leads and Big M.O.N.E.Y." training program here.
If you're not sure if you should focus on sales training or marketing training, here's a super simple way to figure it out. If you get tons of leads, but have a hard time converting them; you need sales training. If you're great at closing any leads you get, but you just don't have enough leads; you need marketing training.
THEN I WOULD DO THIS:
FIRST: I would pick up the phone. Call referral partners, call past clients, call recently closed clients and see if anyone they know may also be in need of your services.

SECOND: I would email my database. To my past clients I would email them the shortest, easiest and best way to drum up new business by simply writing
"Hi (First Name),
Do you know anyone that may need my services in the next 3 months?"
Thanks,
(Your Name)
To your prospecting list I would email:
"Hi (First Name),
Are you still looking to buy a house?
Thanks,
(Your Name)
THIRD: I would share articles from trusted media sources on social media. It's the "easy" way to do social media. You're updating your contacts about important news related to real estate and mortgages, and you don't actually have to create it! Make sure when you do this, that you set some serious guidelines on how much time you spend doing this. Otherwise you can spend hours and hours doing this, and that will actually be costing you hundreds, if not thousands, of dollars. (We have a new "Done for You" Social Media service where we can do your high quality social media for you. If you're interested, I share how to get a 14 Day FREE trial at the end of this article).
FOURTH: I would host an event. This could be a client appreciation party where your clients are invited, and you request they bring someone who may need your services in the next 3-6 months, this could be a "First Time Homebuyers" seminar, or an "Investors" workshop. Whatever theme you decide on here's what you need to do:
* create an account and set up your event details on Eventbrite
* email invitations to your prospecting and client database(that's why your prospecting & client database is critical – you can do this in less than one hour if you have your contacts in a proper database and email system)
* call your referral sources and invite them, and see if they have any clients that would also want to attend
* call to invite your VIP clients that have referred great clients to you in the past
* consider "renting" email lists for local media so they can send an email and invite people on your behalf
* you can also post your event on social media (but notice how this is used to enhance your marketing…its not your ENTIRE marketing plan)
* be a generous host, provide quality drinks and snacks, give everyone name tags, choose a nice venue
* give a 30-45 minute talk that educates your audience
* spend the last 10 minutes of your talk explaining what you do, how you help your clients, and share client success stories
* at the end of your talk, invite people to arrange a meeting with you. Make sure you have pre-printed "Meeting Request" sheets for everyone that captures their first and last name, email, phone number, mailing address, and their top 3 choices of times to meet with you. Hand out pens with your sheets, and actually spend 5 minutes and say "Write your first name here", "Now write your last name here". Go through the entire sheet with them. Get a helper to collect and review all sheets for you, to make sure they're completed fully.
* if you've done a good job in your talk, about 10% – 50% of the room could become your clients next week.
FIFTH: I would send a monthly e-newsletter to clients and prospects. You can also do a monthly printed newsletter. There's no easier way to make easy, fast and fun money in this business than with getting repeat and referral business. So stay in touch with your clients, make them feel valued, and show them that you want to help them long term, by staying in touch long term. Not having an email or newsletter that you regularly send is like raising your hand and saying "Yes, I would LOVE to create a hard, stressful business where I spend all my time chasing new leads. I want to do business the hard way!" In other words, not communicating with your clients regularly is like business drudgery.
The reason I'm explaining in such great detail about what to do, and what's important is this: I SEE TONS OF AGENTS AND BROKERS BETTING THE FARM ON SOCIAL MEDIA, AND FORGETTING TO ACTUALLY SELL!
The bottom line is, you get paid to "sell", right? So, if you don't sell, you don't get paid, right?
If you're saying yes, that means the focus of your energy should be on selling! And if I were you I would focus on the easy, fast and fun way to grow a business (following the steps mentioned above), instead of the long, winding road that social media provides.
One of the best pieces of advice I ever received was from Kevan Cochran, who was one of the top sales leaders for Richard Robbins, and now helps Dominion Lending Canada recruit Mortgage Brokers. Kevan is an incredibly successful at prospecting, and he told me "The best way to market is to pick up the phone. You can do email marketing, you can buy ads, you can do social media, but nothing will get you new sales faster than picking up the phone! Use the phone to get the meeting, then use the meeting to close the deal."
Here's the real deal: I LOVE social media, it has TOTALLY changed my business, and worked amazingly well at helping me promote. But, just like you, the focus must be on sales. If you get distracted…expect your business to slow down…as in you'll make less money$$$.
If you're reading this and thinking, well, I guess I won't do any social media updates any more, I don't recommend that either. Why? Because when your name is passed around as a referral one of the first things that happens is your new lead will Google your name. When they Google your name, your Social Media profiles will often appear first and if your prospect likes what they see…they'll call you. If they don't like what they see, such as a profile that hasn't been updated in months, it will create a negative impression and chances are high you will lose your lead.
So you need to DO social media, but you don't need to make it your entire marketing strategy. It really supports whatever else you've got going on.
If you're finding it difficult to manage your social media, and build your databases, and call clients, consider outsourcing some of your tasks, including your social media.
If you are interested, I'd like to invite you to get a 14 Day FREE Trial of our new "Done for You Social Media" program.
Here's how it works:
* Our Community Manager finds, screens and posts REALTOR and Mortgage Broker approved content to our system. These articles are coming from trusted media sources like The Globe and Mail, National Post, Moneyville and much more.
* Then our system randomizes the content (so everyone gets different posts on different days) and updates your social media profiles based on your preferences.
* Updates are made to your Facebook, Twitter and Linkedin profiles for you.
* You can also continue to post any personal content you like.
If you're interested in trying it out, sign up for a 14 day FREE trial now. Just note, our sytem works likes Netflix; you sign up for a free trial in full (including leaving your credit card details) and if you don't like it you email us to cancel. If you do like it, you don't have to do anything, you just continue having us do your social media for you, so you can focus on building your business the easy, fast and fun way!
To get a 14 Day FREE Trial of our REAL ESTATE BULLETIN go here: http://realestatebulletin.ca/registration
To get a 14 Day FREE Trial of our MORTGAGE BULLETIN go here: http://mortgagebulletin.ca/registration
To your success,
Ingrid Menninga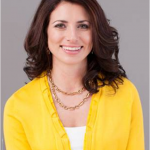 Ingrid Menninga is the founder of JOLT Marketing where her big mission is to put the heart back into the Real Estate and Mortgage industry while helping Agents & Brokers make awesome profits.
Within 3 years of founding JOLT Marketing, Ingrid has carved out a spectacular success roster working with Canada's leading Real Estate and Mortgage brands with clients from RE/MAX, Royal LePage, Dominion Lending Centres, Verico, Street Capital, and more.
Ingrid is frequently featured in industry journals such as REM: Canada's Real Estate Magazine, CAAMP's Mortgage Journal, at speaking engagements for RE-Bar Camps, InMan's Agent ReBoot, CMP's The Mortgage Summit and in Sales Seminars for leading industry organizations such as IMBA(Independent Mortgage Brokers Association of Ontario).
*Image from rebelbookchicks.com